New Inserts
Performance Carbide manufactures standard (turning, milling, threading, grooving, top-notch, dog bones, cut-off, spade drills) and special (to print, special widths, special radius) inserts.Our top quality inserts can be manufactured of: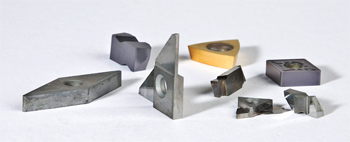 Carbide
Cermets
Ceramic
CBN
PCD
HSS
Silicon Nitride
Your inserts will be ground to industry standards or ground to your print.
Our exacting work includes:
Quality carbide from well-known industry-leading manufacturers
Limitless grade and style selection
Custom grinding to your specifications with the potential for altering the process to give you the optimum tool for your application
Standard and special edge prep to enhance tool life of your insert
Wide range of options for coatings available
Downsizing Inserts
Your dull inserts can – AND SHOULD! – have another life.  Your company can save 40-60% or more of the cost of a new, smaller insert if you take advantage of downsizing.
When you send us your dull inserts, we grind them to the new smaller standard size or a special request size.
As you specify, we will:
Grind down one standard size or several
Grind chip breakers back into the insert
Complete new edge prep
Recoat with original or superior coating for your application
Our precision process removes all stock without heat, thermal cracking or chipping. Custom honing in our plant provides tool life that often exceeds that of the original insert. Your inserts are carefully packaged and shipped promptly to you. We downsize squares, triangles, rounds, hexagons, pentagons, 80 degree diamonds, 55 degree diamonds, grooving tools and many more.
Visit 'Downsizing Inserts' page
Regrinding
You know the cost of indexable carbide inserts and you know they are ever-increasing!
Because the charge for regrinding is only a fraction of the cost of a new insert, it is not only economical for you to have your inserts reground – you'll surely agree that it's necessary. For example, a $10.00 insert might cost only $2.00 to sharpen and $2.50 to downsize, depending on the quantities involved. Also, many of our reground inserts last LONGER than the original due to our expertise in carbide grinding, edge prep and superior coatings.
It's easy to use our service:

You send us your scrap carbide and tell us your needs. Sometimes we can even arrange to pick these up at your facilities.

We inventory the material received and formally quote firm prices for the grinding/coating of each item.

You give us formal approval and instructions to proceed.

We work on your order and return your high quality reground inserts in approximately two to four weeks. (faster turnaround is possible).
Our Business is Run by Perfectionists
That's why we can guarantee our work 100 percent. You can be assured that your order will receive individual attention, whether it's large or small. We welcome the opportunity to show you what makes us the best source for your insert work.
Full Insert Service & Recycling
Sorting
We will sort your used carbide inserts – by style and grade – and provide you with an inventory and pricing for downsizing and/or sharpening. THERE IS NO CHARGE FOR THIS SERVICE!!!
Determining Grinding Specifications
While we work with standard specifications, we will consult closely with you to determine the lowest cost and optimum specification for your application. We present any alternative possibilities and will provide samples.
Coating
We can apply or re-apply a wide range of different coatings.  Our experienced staff will work with you to decide the best coating for your application.
Recycling
We accept any coated or non-coated carbide items, including all types of inserts, mills, drills, taps, reamers, etc.
Please see our .pdf file to learn more about Performance Carbide's recycle program.